16 Tips For Your Dream Walk In Closet
Mar 28, 2020
One of the most iconic scenes of the movie Sex and the City, takes place in a walk in closet. When Carrie Bradshaw puts on an impromptu fashion-show for her friends and revisits all her favourite clothes. This fashion extravaganza takes place in the walk in closet of her apartment, with the friends cheering from the bed. Another momentous scene from the same movie is again in yet another gorgeous walk in closet. Much bigger, roomier with bright lights, when Mr. Big proposes Carrie with a Manolo Blahnik shoe right there on the floor of the beautiful closet.
Fabulous walk in closets and wardrobe designs have made epochal appearances in movies and TV shows, and have always remained things that are much desired but often assumed to be luxuries for large apartments and houses. With the actresses sweeping in, throwing open their bedroom wardrobes, to browse through rows and rows of shoes and bags and gorgeous dresses, as if in your own private little mall with unlimited try-it-on options. Good news is, that these rooms of wonder can be yours too, with some clever closet and wardrobe design tips.
1. Shine the light fantastic
Lights are elemental for a good closet or wardrobe design for bedrooms. Light is needed, not just to spot where the clothes are, but to bring luminescence to the walk in closet. Enough bright light to light-up every corner of the cupboard, so that not one item of clothing or accessory gets missed out and neglected. Also, bright light makes the room feel bigger and brighter, giving a sense of more space than it may truly have. Adding lights in the recesses will give it a greater sense of space and light in any modern wardrobe.
2. All about colours
Colours play a crucial role in any cupboard design. While designing the walk in closet, it is recommended to go for neutral colours. This is for multiple reasons. Neutral colours will not clash with the clothes, shoes and accessories that will be placed in the closet, making everything easier to locate and make them appear aesthetically appealing. Closet design with simple lines for shelves and tall spaces for hangers, help the space look neat and organized with the neutral backdrop making the colourful clothes pop-out and look inviting.
3. Mirror on the wall
No getting-ready ritual can be completed without a mirror. It is usual to have a full length mirror on a wardrobe door. However, a walk in closet is also a good place to mount a beautiful full length mirror. The options for mirrors are endless, from ornate gilded mirrors to simple sleek mirrors with minimalistic frames of no frames at all. Make the closet be your own little green-room by adding Hollywood lights all around it. The mirror and the lights add to the sense of space to the walk in closet. Add a little table by the mirror for your make-up and jewellery and you can be assured that you always step out in style!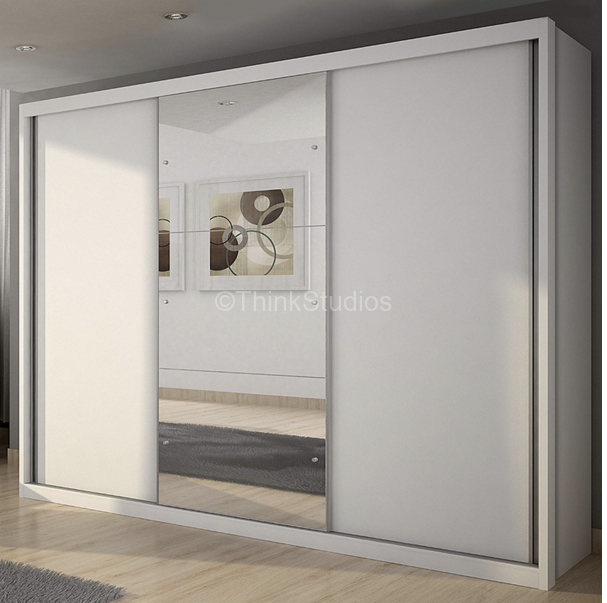 4. Place to sit
An excellent way to spruce up the wardrobe internal design is by adding a stool, maybe even with a fabric top, or a couple of Ottomans to sit and tie up those gladiator heels, or have someone sit and watch as you put on your own fashion show. Or to simply sit in front of the mirror to do your makeup. A clever closet design will include a good seating option which can work as a chair to put on shoes or do your makeup or even reach up to the top most shelves in your closet. What is more, they will make the closet look cosy and inviting.
5. Slide open, glide in
If there is space limitation, then sliding wardrobe design can come to the rescue. Have the doors for your walk in closet slide open. Make the portal to the land of wonders open through doors that slide, which you can push open with a flourish and step into your wonderland. Sliding doors save space, you don't have to move back to open the door wide open, just slide and glide in. Sliding doors also look elegant and chic. If you can automate the turning on of the lights with the sliding of the door, even better.
6. Shop Window Wonder
What fun if you can window shop at home. Modern wardrobe designs for the bedroom can help you get just that. If you are a hoarder of all things shoes and bags, go ahead and install beautiful shelves and flaunt your lovely collection. One, they would make a great display to have the beautiful shoes and bags arranged nicely and also it is a practical way to be able to view all your possessions in one go instead of having to rummage through to find the correct match. Let your dresses hang in beautiful rows which you can browse through just as in a store and make a selection.
A glass door to the walk in closet will make the shop window look complete.
7. Minimise for maximum effect
While the idea of a good closet design is to assign appropriate shelf space and hanger space for all your clothes, shoes, bags and other accessories, minimalism is the way to go. Have the arrangement minimalistic – with sufficient lighting and clean spaces which bring out the display and highlight elements and make them stand out. Cluttered spaces or even too many decoration items in your cupboard design can make the space look confusing and aesthetically unpleasing.
8. All Access Granted
A lovely way to make a walk in closet practical is to allow access to the bathroom. Once you pop into the walk in closet – you can go take a shower and emerge all dressed and ready to step-out courtesy the walk in closet, fully equipped with all that you need. Including mirrors and a dresser. Enter a dishevelled sleepy person, emerge "ready-to-take-on-the-world" Diva!
9. Treasure trove
Add a lovely dimension with your own treasure trove in your walk in closet with a special section for all your jewellery and other knick-knacks. In your wooden wardrobe include velvet lined drawers, with compartments for rings and bangles and hooks for necklaces and chains. Add to this some clever lighting and a mirror for you to look into as you accessorise your latest ensemble. This will help you admire all your lovely jewellery as well as make it easily accessible. Similar cabinets and cubby holes can also be used to store ties, belts, cufflinks, watches and pocket squares.
10. The Diva Dresser
If you are blessed with really large space for your walk in closet, go ahead and add a well-equipped dressing table. One place to keep all your makeup, with lights around the mirror, and a comfortable seat, so you can get ready in the closet itself. You can also add electric fixtures for your hair dryers, straighteners and other such accessories. Don't forget the vanity mirror lights. A wardrobe with dressing tables is definitely a plus.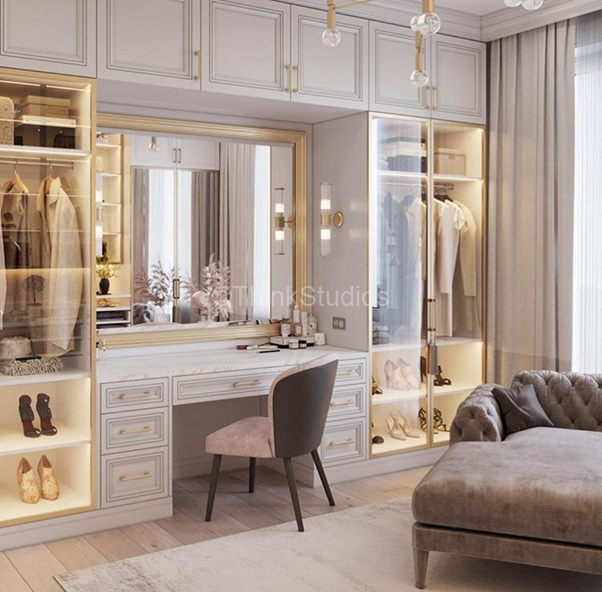 11. Something's in the air
A wardrobe is a space which remains closed most of the time, making it susceptible to moulds and smells unless the ventilation has been taken care of. If your wardrobe design allows ample space and the plan permits it would be ideal to have a window. It will add a green element as well as fresh air to the closet. If that is not possible, some other options that will do the trick are installing mechanical ventilation or using a dehumidifier. Proper circulation of air will prevent the precious clothes from getting mouldy and damp, thereby increasing the life of your clothes and accessories.
12. Showstopper
Any space can be converted into an art piece with a stand-out feature. Make room in the closet design for a show-stealer feature wall with a panel or wall in contrasting colour, stained glass partitions, an ornate beautiful mirror, a painting or even a mounted sculpture can add a brilliant dimension to the closet. If you are a real clotheshorse, a fabulous way to glam up your closet would be to frame and display some iconic dress (of course, one which you will not wear any more), for instance your wedding dress, or your farewell/ freshers/ prom dress. And if you kids, then you could make a clothes collage with their first onesies and blankies.
13. Clothes Art
Let your creativity shine, and turn your clothes into art pieces. Add to your wardrobe's internal design by adorning with clothes arranged into beautiful displays using their colours, fabric, flow. Hang your scarves and other drapes to make a flowy breezy art – functional beauty in your walk in closet.
14. Wardrobe Closet
In case there is not enough space for a walk in closet, you can always make modifications to the wardrobe in your room, to serve the purpose. A wall to wall and floor to ceiling wardrobe will do the trick. Sliding doors to maximise storage space, equipped with an assortment of racks, drawers, hanger space and shelves to store all sorts of clothing and accessories neatly and in easy access. Using the entire height of the wardrobe will ensure ample space for your belongings. Add sensor lights which turn on when the door is opened as well as lights in all the corners and dark nooks to give the wardrobe a nice and bright look. The door can also double up as a full length mirror.
15. Organise to glamourise
For the Walk in closet or the wardrobe to be utilised to the fullest and to be at its best beautiful it is important for everything to be organised well. Everyone loves Marie Kondo's organisation ideas. You can go ahead and come up with your own too. But a general to go with would be to itemise things as per their uses and types, hankies, innerwear, dresses, jeans, trousers, blouses. Then accessories – belts, bags, shoes, watches, earrings, necklaces and other knick-knacks. Decluttering helps before re-organising so that you have only what you really like and will use in your closet. This generates a feeling of happiness and peace.
16. Heights & Distances
Here are some simple rules of the thumb for wardrobe dimensions that you can keep in mind while planning the closet. The dimensions of your closet racks, hanger heights at different levels should be proportionate to your height and the height of the closet. These will help in a closet which is easily accessible to you without overreaching or bending too much and of course maximising the capacity of your closet.
Here's to a perfect closet!
These simple tips can help in making a great walk in closet or transform your simple wooden, 4 door wardrobe in the bedroom. It is important to keep in mind that it is a lot about using space cleverly and using a lot of mirrors and well placed light fixtures. Small and carefully planned additions like wooden panelling, the colours and textures, pops of colours can go a long way. After all, who would not want to get ready in such a beautiful space. Step-up your style not just with clothes but with the place where your clothes and you spend most time in.