An Architect's Tips For Modular Kitchen Design
Apr 10, 2020
A good modular kitchen design can be a life saver, especially in situations like the lockdown, which has had us spending more time than ever in our homes and invariable our kitchens. Kitchens are the spaces which glues together any household. This is where anyone turns to for comfort food, for an occasional sinful indulgence after a job well done, or for an opportunity to have a good time with your family over a favourite dish.
What makes a perfect kitchen design? Over the years working on a wide variety of projects we have worked on kitchens of all kinds and strived to answer various questions. What can be the most frustrating or cumbersome element in the kitchen design. Is there enough and correct kitchen furniture in place? Are the kitchen cupboard design and placement functional enough? Is the modular design truly modular? How to make a choice between, parallel kitchen, open kitchen, or how to choose different elements like an island, bar, number of sinks etc while keeping budget and space constraints in mind. The modern kitchens today double up as multipurpose rooms, hence, the more concentrated effort in a good modular kitchen design, correct trolley design, platform heights, kitchen furniture and the like.
Here are some handy pointers assimilated over time by our team, addressing all the major problem areas for a fabulous kitchen design. Read away:
1. The secret's laid out in the Layout
The first aspect to the modular kitchen design is the layout. There are essentially four layout design options, based on your requirement and availability of space. Here are the different layouts to choose from:
Image: The Work Triangle. Source: Pinterest
Image: The Work Triangle. Source: manish khanna
This an imaginary Triangle connecting the cook top, sink and refrigerator. As you can see in the image, an efficient kitchen layout minimizes the distance between these three spots to ensure good workflow. There should be no obstacles such as a tall storage cabinet, kitchen island, breakfast counters, furniture and so on within the boundary of the work triangle, or at least in the pathways between the three points.

Image: U shaped kitchen. Source: Pinterest
A U-shaped kitchen, as visible in the image above, comprises a continuous kitchen countertop running along three adjacent walls of the kitchen. One can achieve an efficient kitchen work triangle by accommodating the cooktop, the sink and the refrigerator, one in each section of the kitchen, just as in this example.

Image: L shaped kitchen. Source: Pinterest
In L-shaped kitchens, the counter top runs along the right-angled walls of the kitchen, with an open area in the center. The third side of the L-shaped kitchen is usually an empty space, which can be used to store appliances – the refrigerator, oven, microwave. This type of layout offers efficiency in the kitchen, because one does not have to walk too far to access the different work zones.
Image: Adam Chandler island kitchen. Source: Pinterest
This layout, as shown in the image, houses a freestanding 'island' counter-top in the middle of the space, which can also be used to built-in storage. Most islands have a side devoted to cooking and a side devoted to eating, prep work, cooking, cleaning or eating. This design is perfect for an open floor plan and requires a high level of maintenance as you have to keep everything neat and tucked away.
Decide your seating height. If you want to have bar stools at your island, you will need to decide if it's 36 or 42 inches high. The open floor area around the island also requires some calculation.
We suggest about 3 feet of floor space on the ends of the island. The 2 working sides of an island should have min. 42 inches of space in between. The dimensions for a kitchen island should be at least 4 feet long and 3 feet wide so that two people can work on the island counter top standing at the two longer sides, facing each other across the width (or the depth) of the island. See this interesting island storage solutions.
2. Open or closed?
Image Source: amber interiors Open Kitchen.
For centuries the kitchen was strictly a workspace. Often, the Indian kitchens were tucked away in the back of the house, with room just enough for the essentials. However, kitchens today are a completely different story. The approach to this part of the house has evolved tremendously over time. Now the kitchen is in the beginning of the house if not a beautiful open centerpiece almost. How to choose a design that works for your home?
An open kitchen design, the kind in the image above, can look stunning with the right kitchen furniture and cupboards and fixtures. And for precisely this reason, it can be a bit cumbersome to maintain as it needs to be kept clean with all accessories and gadgets and kitchen paraphernalia tucked away. But it has a lot of pros – like easy access, can double up as a dining area, a bar and looks gorgeous.
Of course, not everyone is comfortable giving everyone a view of their kitchen, as while it can be a nice place to hang out, it is also a very private space. A closed kitchen design gives the freedom to leave the kitchen smells and mess behind when serving meals. It also offers greater storage options and possibly less of a mental stress as it will not be on display all the time. On the other hand it reduces accessibility to the dining area and makes it difficult to interact with visitors, friends and family while in the kitchen.
Ultimately it comes down to personal preference.
Bumper Point: If going ahead with an open kitchen Invest in an industrial-strength kitchen exhaust. You can rest assured that your guests will not be able to smell the curry you just cooked in the morning.
3. What's on the cabinets? – All About Materials
A kitchen cannot exist without efficient and flawless kitchen cupboard design. Here are some options of materials that can be considered for the cabinets in the modular kitchen design to ensure the kitchen looks fabulous without compromising on the functionality.
Solid Wood
Wood is by far the most common material used for cabinets. It is a non-toxic and a renewable resource. Hardwoods like Teak and Sheesham (Indian rosewood) are common materials used in Indian kitchen cabinets. However, bad-quality timber boards can show warps and dents, so care must be taken while selecting wood. Change in humidity levels can damage the core and surface of the wood, and wood also needs frequent polishing to maintain its smooth texture and shine. Wood can be costly and time-consuming material to work with.
Image: Solid Wood cabinets. Source: Pinterest
Wood Veneers
Veneers are slices or sheets of solid wood that have refined grains and beauty of natural wood. Many brands like CenturyPly,GreenPly provide good-quality veneers all over India. Wood veneers are sustainable and economical as compared to wood and can be given different finishes like matte, semi-gloss and high gloss. Veneers are also a bit high on maintenance as they require polishing after a period and just like wood, they are not scratch resistant.
Acrylic Finish
Acrylic finish has certain benefits. It imparts a high-end modern look. Because of its highly reflective surface acrylic bestows a very sophisticated look to the kitchen, giving high-gloss finish, which can be in a wide range of colors. Acrylic finish It does not fade and is very easy to maintain.

Image: Acrylic Finish cabinets. Source: Pinterest
Laminates – Laminates are durable, moisture-resistant and sturdy. From matte to high gloss, unicore to digital and even customized printing on the surface, there is a plethora of options to choose from. Numerous brands like Merino Laminates, Century Laminates, Royale Toucheand Greenlam Laminates, offer an abundance of designs and finishes.
PVC (Poly Vinyl Chloride) sheet – This material is quite inexpensive and easy to install. Being waterproof and oil-proof, it makes a practical option for Kitchen Cabinets. However, these sheets yellow with age. Some plastics soften with time, so the joints can loosen.
Stainless Steel Or Aluminum – Metal kitchen cabinets can be very strong and durable, though they can be very expensive option. A slightly cost-effective way can be to have the cabinet carcass made of wood and the doors or shutters to be made out of steel.
Image: Stainless Steel Finish Cabinets. Source: Pinterest
Making a big splash with the Backsplash & Countertop – Some More About Materials

Image: Beautiful Backsplash. Source: Pinterest
Check out this beautiful backsplash of aquamarine ceramic tiles highlighting the serene white kitchen. A unique backsplash can almost act as a mini feature wall for a kitchen. Selecting the correct colours and design for the backsplash can be confusing. What comes first – the kitchen counter or the backsplash? What colour scheme or coordination will work? Is it alright to mix patterns? The seemingly unlimited choice can be overwhelming.
A good start will be to focus on the countertop first. In any kitchen design the countertop is the mainstay in your kitchen and can constitute a good chunk of the budget. Hence, getting that right would be crucial.
A backsplash protects the kitchen walls and adds color and texture. If there is a backsplash which truly takes your breath away, even before you have looked at countertops, then you could select the kitchen counter based on the backsplash. The choice will be narrowed down. If making a statement is what you are looking for, such as the one in the pic, then a quiet, subtler countertop material will work better so that it doesn't fight with the backsplash.
Following is the list of materials you can choose from:
Porcelain and Ceramic Tiles–
For their practicality and finish options, they are the popular choice. They come in finishes that even resemble stone or wood. Both can be used individually or can even be mixed and matched to create interesting combinations. These are very durable and easy on maintenance.
Glass
Tempered glass gives sleek and seamless look to the back splash. The beauty of a glass back splash is that you can choose anything, even a bespoke piece of artwork screen-printed and mounted on the back of the glass.
Engineered Stone
Also referred to as quartz composite, an engineered stone backsplash is made of crushed quartz mixed with resin. These high performing stones are heat and scratch resistant and very tough and make a great choice for both countertop and backsplash.
Granite
Granite is the most common finish, which work equally well in traditional and contemporary settings. It is known for durability and heat resistance.
Composite- Corian and Hi- Macs
Usually made from a blend of one-third resin and two-thirds natural mineral, they offer extraordinary design flexibility and can be seamlessly molded into angles and curves, which means no joints between worktop and backsplash. This feature makes them easy to keep clean and hygienic, because there are no joins where dirt can accumulate.
Marble
Marble is evergreen. The natural beauty of a marble never fails to bring a luxurious look to the kitchen. However, that marble is porous, so it needs sealing and resealing against staining. It also scratches more easily than other materials. You have to accept marble for what it is. It's beautiful, but not maintenance free.
Polished Plaster– Texturally, it can range from highly polished and smooth to rough and weathered. The polished finish is durable and easy on maintenance, looks neat and clean. However, the textured finish can be high maintenance, as in an incident of getting chipped or cracked it is difficult to fix or replaced.
Stainless Steel– This is an interesting option. Work in an industrial vibe with a stainless-steel backsplash, which comes in sheets of flat steel that can be fixed directly to the wall with either glue or screws.
5. The Art of Storage
Even if you know exactly what you want your new kitchen to look like, planning the cabinetry is quite a feat. How much storage do you need? How much cabinetry can you install without making your new kitchen feel smaller than the original? Exactly what needs to be stored where?
Here are some kitchen cupboard design and storage parameters to consider for your modern kitchen design.
Cabinet or drawer?
Although cabinets often cost less than drawers, it has been found that deep and wide drawers tend to be more useful. They allow you to use the entire depth of a space and are easier to use, all the while making the exterior look neat once the drawers are closed. It would be important to ensure availability of sufficient depth.
Image: Schmidt kitchen Cabinet. Source: Pinterest
Maximizing storage:
If space permits, one whole wall can be act as a storage wall – top to bottom. This clears up the clutter from your countertop and makes the kitchen look bigger and roomier. To maximize the corner storage, carousels can be installed, that can store plenty of items while keeping them accessible.
Image Source: Dan Kitchens
Adding vertical storage:
Vertical storage, as in the image, is a great way to increase storage space in a kitchen. The pantry cabinet in the image has swing-out shelves that allow easier access to food than would a deep, stationary shelving. The real stars of this vertical storage, however, are the very narrow pullout cabinets, used here for oils and herbs and located right next to the cooktop where they will be used.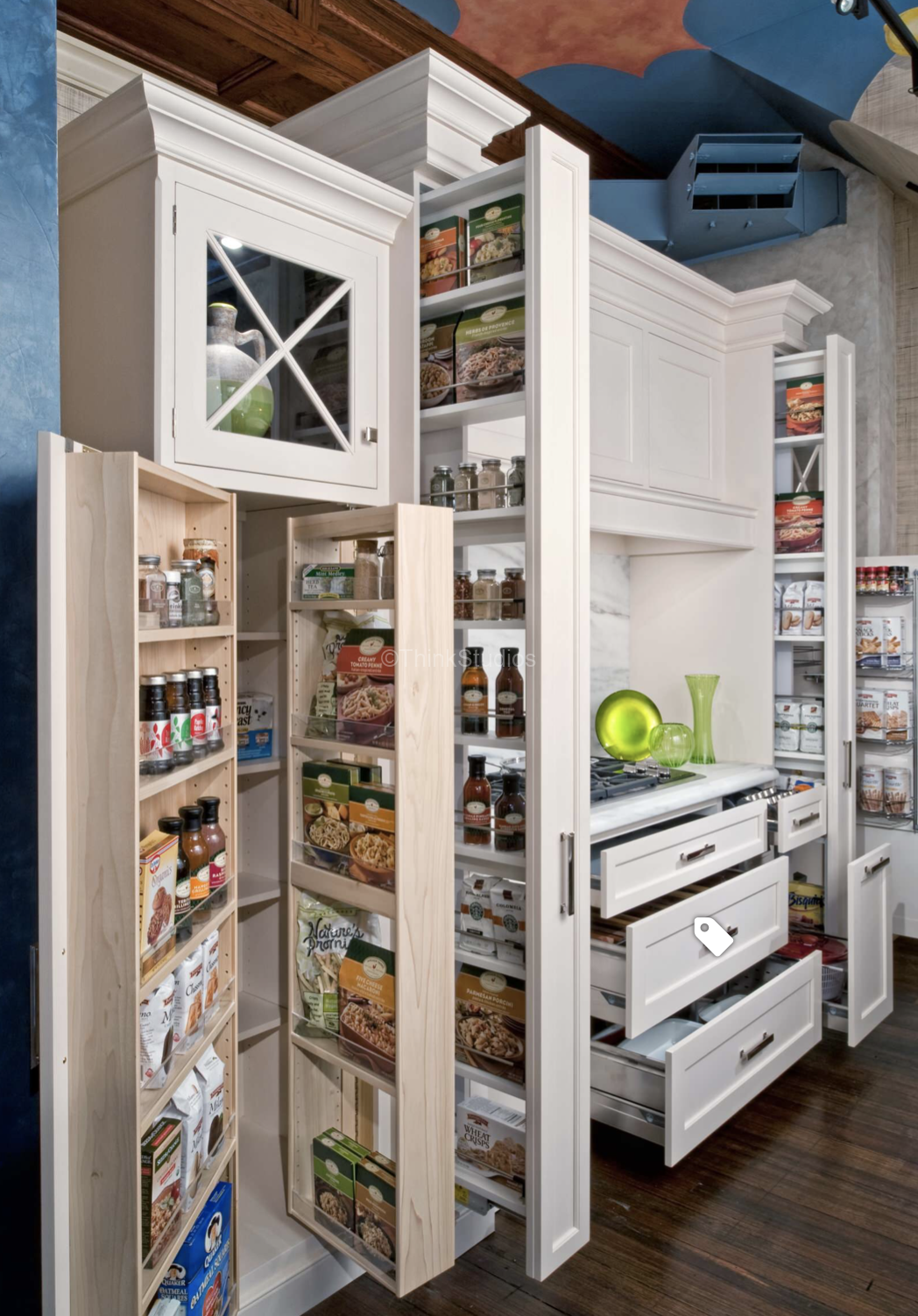 Image: Wooden kitchen storage. Source: Pinterest
Integrate your appliances:
Hiding appliances by integrating them into your cabinetry. Most brands now offer refrigerators, freezers and dishwashers that can be integrated, and can simply be concealed behind kitchen panels so they blend in seamlessly with the cabinetry.
Image: Appliances integrated within the kitchen design. Source: Pinterest
Measure up before buying appliances:
No one wants to get stuck with an OTG that takes up half of your countertop. Appliances that are too big can overwhelm and clutter up your kitchen. It's hugely important to choose the right-size appliances especially for a small kitchen. Invest some time in taking measurements, and planning in detail which appliance goes where in the kitchen.
6. The BIG Dos And Don'ts Of Kitchen Design
Considering the designing, the cabinetry, the appliances, the kitchen often is the most expensive part of the house. Hence, it is very important that the modular kitchen is planned and designed for efficiency and functionality. Here are some things that you can watch out for or keep in mind:
Make a comprehensive list of electrical appliances that will be installed in the kitchen and allow provision for the power points accordingly.
Kitchen island should only be provided if you have 12' to 14' wide or bigger kitchen to avoid crowding.
Materials like like MDF or particle board should be avoided. Instead use BWP Plywood for cabinets.
The hardware should be in stainless still to avoid rusting.
Select the countertop material as per the usability of the kitchen. (please refer point number 4, where we have listed the material options.)
Lighting is essential. Provide ample lighting for the food preparation area by installing task lights and ceiling lights that illuminate the countertop. Internal cabinet lightings with automatic sensors are also a great option.
Lack of proper storage can lead to chaos in the kitchen. If the kitchen is small, a good way to add storage is by adding full height cabinets. Plan for drawers with cutlery, plates and cups organizers. Segregate dry storage spaces from everyday utensils.
The standard height of the kitchen countertop is around 34 inches. There should be a gap of 4 inches between the top of the countertop and the elbow when you are standing to avoid strain on the back.
The standard depth of a kitchen countertop and the lower cabinets and drawer units should be 2 feet. It may vary depending on the size of the kitchen appliances such as the gas stove or cooking range that must be installed.
The minimum clearance between the kitchen countertop and the upper cabinets ranges between 24" and 27". And the depth of the overhead cabinet should not be more than 15" to avoid head banging while working
Leave enough space for your refrigerator. An ideal way to do this would be to finalize the refrigerator model and then leave 2" space from the back of the wall and over it to avoid overheating.
Plan the microwave at a height of 14" to 18"
And last but not the least make sure your kitchen has proper ventilation.


Image: Kitchen ergnomics . Source: Pinterest
7. Making the Kitchen Pop!
Herb Garden – If space allows, try adding open shelves, you can put some green plants or even herbs used for seasoning. It is a lovely way to give your green thumb a chance and have a little bit of your own kitchen garden in the kitchen itself. Green is a colour that inspires peace and tranquility and plants look beautiful on their own in an eclectic collection of colourful cute planters.
Image: Herbs and plants in a kitchen. Source: Pinterest
Accessoris – Use interesting hardware and unique handles and door and drawer knobs. Choose from a wide range of products available to jazz up the kitchen, from eclectic ceramic drawer knobs, ornate door handles and even beautiful antique looking water taps and faucets and even ornaments tastefully arranged. Check out the kitchen in the image with gorgeous golden accents.
Image: Statement fistures and knobs and door handles. Source: Pinterest
Statement Light – A statement lighting over your island counter can be a conversation starter. Especially in an open kitchen, it will be first thing that catches the eye. A beautiful pendant shades or island chandelier which fills the kitchen with a beautiful glow.


Image Source: Elegant Statement Shades.: Pinterest
Dining Nook – If you have a big open kitchen, add a dining spot. Depending on the area a cozy little dining corner or even an elaborate seating for dining can be added. It can serve as a lovely little nook to have the early morning breakfast, a quick meal or a relaxed coffee break. Also, a great place for the whole family to hangout while meals are being cooked and enjoyed together.

Image: A cute cosy dining nook. Source: Pinterest Image: Expansive and elegant dining area. Source: Pinterest
A texture mix: The beautiful kitchen in this image has a lovely balance of texture and colour with the use of wood, ceramic tiles for backsplash and white countertop. There are a lot of areas where we can play around with colours, material, textures and create a unique combination which stands out.
Image: Beautiful Earthy Kitchen. Source: Pinterest
Add a bar: A compact wood and glass bar can add elegance and panache to the kitchen. Make sure there is suitable lighting to make your crystal glass display gleam and shine.
Colours out of the box – Check out this gorgeous kitchen in a unique dark grey-blue colour. If you are one to take risks, it can be an exciting way to make your kitchen stand out, by using a thrilling palette which is unique to you.
Image: A singularly unique colour choice. Source: Pinterest
Modular Kitchen vs Made-On-Site Kitchen – The Age-Old War
While designing your dream home there is a temptation to go into even the minutest details of the design. In such a case, a factory made, ready to install modular kitchen may not give the satisfaction of having designed and planned everything by yourself. Old schoolers may feel more inclined to go for made-on-site kitchens. While made-on-site kitchen is a valid option, different situations and scenarios call for different solutions.
A made-on-site kitchen works best if:
You have a lot of time and are under no rush to complete the project
You have razor sharp clarity on your design and functionality requirements. Each element and sizing detail can be customized which gives you a lot of flexibility, provided it is well planned.
You are looking for durability that will last generations. Make on site construction allows for extremely robust constructions that can last decades.
You are on a budget. A made-on-site kitchen can be economical as compared to the high-end modular kitchen options.
On the other hand, a modular kitchen works well when:
You are running on a tight schedule. Since the modular kitchen is built in the factory, the construction work of your home and your kitchen can progress in tandem without hindering each other.
You are looking for a kitchen that is sleek, luxurious and stylish while being highly functional and easy to manage. A lot of companies these days offer high-end kitchen designs, with great attention to details.
Image: An elegant modular kitchen. Source: Pinterest
A kitchen is an indispensable part of any home. A good kitchen design will consider the budget and space constraints as well as design aspirations. With careful consideration of the above-mentioned points and a trusted architect and designer, you can be sure of a kitchen that you would love to spend most time in.
Architecture is a profession with many rules, some written some not. An architect is continuously gravitating between following all the rules by the book or making a space for the imagination or experimentation. And this is a difficult balance coz you are trying to challenge the conception and push boundaries and innovate.
Why not give us a call to find out how you can dream kitchen. To get in touch with an expert now click here.